Disposable Smoothbore Breathing Circuit with Double Watertraps
Product Detail
Product Tags
Disposable Anesthesia Breathing Circuit could be used to connect with anesthesia machine, ventilator machine, humidifier and nebulizer, setting up a breathing connection channel for the patient.
Accessories: could be used together with breathing filter, anesthesia mask, catheter mount, breathing bag, gas sampling line, etc.
Anesthesia breathing system
adult/pediatrics:common/extension tube
Construction:with L connector,three-way connector.
breath air chamber,solenoid
Function:connect the equipment,transfer the air to bogy
Store claim:store in dark ,dry and clean conditions.
* Made From Medical Grade PVC Material
* Circuit For Breathing Machine And Anesthesia Machine
* Variety Of Standards, Custom Configurations Value Pack Solutions
* Smooth Bore Tube With Reinforced
* Regular Connector Size (15mm, 22mm)
* Any Length For Tube Is Available
* CE, ISO certification
* Medical PVC Material
This device is used with anesthetic apparatus and ventilators as an air link to send anesthetic gases, oxygen and other medical gases into the body of a patient. Especially apply to the patients who has a great demand for flash gas flow(FGF),such as children, one-lung ventilation(OLV) patients 
Product Name
High Quality Disposable 

Smoothbore

 Circuit 

Material

PVC

Type

Adult, Pediatric and Neonatal

Length

0.8m, 1m, 1.2m, 1.5m, 1.6m, 1.8m, 2.4m, 3m, etc

Packing Methods: 

Paper Plastic Pouch/PC; PE pouch/PC

Outer Package:

59x45x42cm for CTN Size




40pcs/CTN for Adult, 50pcs/CTN for Pediatric

Brand:

Reborn or OEM as per customers' request

Sterilization:

Ethylene Oxide Sterilization

Delivery Time:

20 days or depends on specific case

Certification:

ISO, CE

HS Code:

901

8390

0000
Disposable Breathing circuit smoothbore
The Disposable Corrugated Anesthesia Breathing Circuit can be well connected with monitoring facility with good breathing flexibility, no bending, no damage, and can ensure the flexibility for gas during mechanic ventilation. The circuit is easy operate, sterile safety and protect infection.
Anesthesia breathing circuit is applied for anesthesia machine and ventilation to input oxygen and anesthesia.
It aids in heat and moisture retention, speed up the recovery time of patients.
Multiple choice with various connectors, masks, breathing bags, filter, water traps and etc.
1) For anesthesia surgery
2) Aid in heat and moisture retention ,speeding patient recovery time
3) Can be add tube, filter, breathing bag, connector as per customer requirement
Anaesthesia Breathing Smoothbore circuit
* Tubing available: Corrugated, Expandable (Extendable), Smoothbore, Coaxial, Bilumen, Heated wire integrated;
* Sizes available: Neonate, Child, Adult;
* Lengths available: 1.5m, 1.6m, 1.8m, 2m, 2.4m, 2.7m, 3m or others upon request
* Accessories available: Y Adaptor with/without ports, Elbow Connectors with/without ports, Re-breathing bags, limbs, Filters, Anaesthetic masks, humidifiers, Gas sampling lines, catheter mounts (extension lines), water traps, safety caps;
* Made from medical grade materials: Phthalate-free PVC, EVA, PC, PE, PP etc
* ISO standard 22mm, 15mm,10mm connectors for good compatibility
* Circuits are available with Clinically Clean or Sterile
* 100% leakage test performed
Light weight reduces torque on Endotracheal Tube etc
- High transparency for good visibility
- Good tenacity and low compliance
- Well designed tubing prevents collapse of tube
- Cuffed connections ensure good sealing
- Available with different types of Wye connectors and elbows for temperature & pressure measuring, or gas monitoring, etc
* Smmoth inner wall, not accumulating water, improving safety
* Channel for medical gases (anesthesia gases and oxygen) entering into patients
* Unique swivel tube, preventing breath hold caused by distortion
* ISO standard connector, matched with anesthesia machines
* Could be sold with reservoir bags, HME filters, limbs, catheter mounts and anesthesia masks
Disposable medical smoothbore ventilator breathing circuit with double water traps
Breathing Circuit, smoothbore tube.
ID of tube:10mm( neonatal), 15mm(Pediatric), 20mm(Adult).
Double water traps
Kinking resistant, very high quality.
Length: 1.8m/2.0m,and length can be customized
Standard connector with gas sampling port(15F,15M,22F,22M)
Smooth interior offers excellent unrestricted airflow
Corrugated exterior for excellent flexibility and prevents collapsing
Can be sterilized by EO
Extra limb can be added
Dismountable or non-dismountable
Color:transparent for tube, blue or green for connector, any color can be customized
Certificate: CE, ISO13485 
Choices in Circuit Styles: Adu, pediatric and neonatal; expandable, corrugated smoothbore circuits. 
Choice in accessories:masks,elbows,wyes,filter,gas line,breathing bags and HMES
1.The product is suitable for breathing circuits,including Y connector, Water Trap, disposable breathing Circuit-Corrugated, BVF, Humidification Chambers
2.Swivel elbow and sputum suction hole with cap make this product more flexible and convenient to use, and provide good comfort during sputum suction.
3.Humidification Chambers is designed for automatic water supply to ensure that it is maintained at a low water level while generating high-performance water vapor.
4.The high-performance BVF is used to isolate bacteria and viruses during long-term anesthesia or respiratory remission, and the effect can reach 99.999%.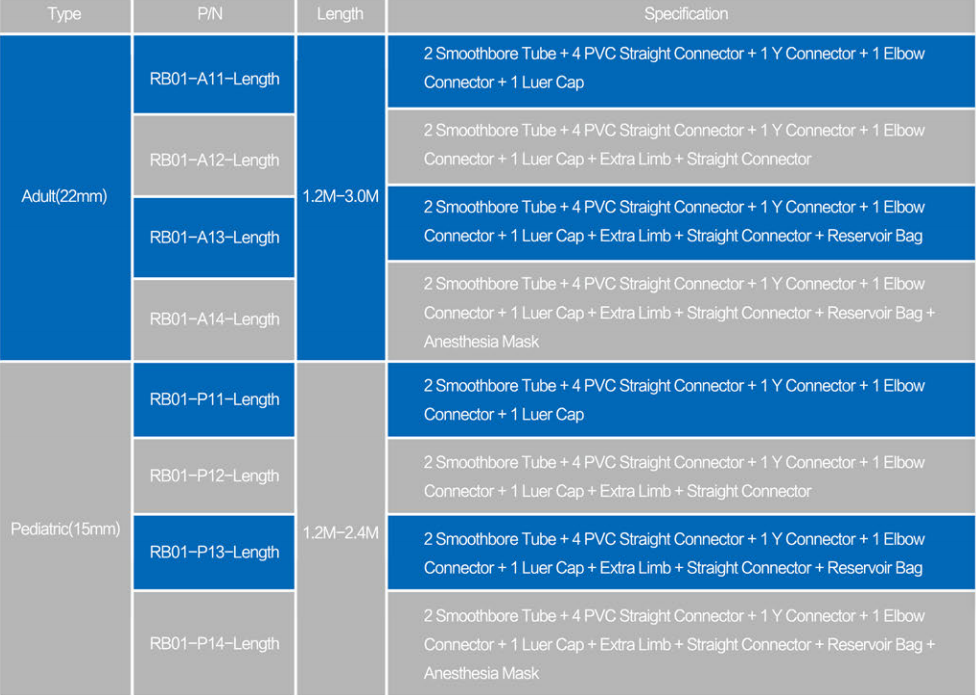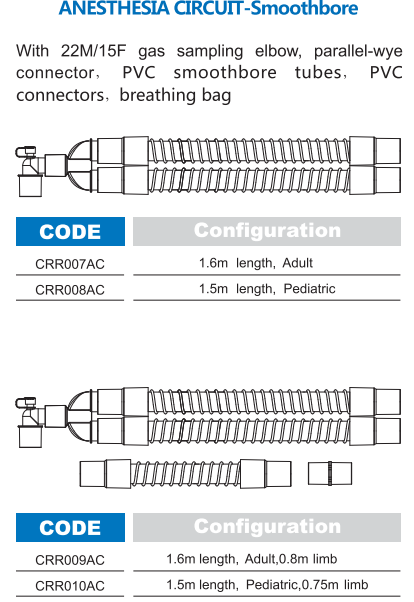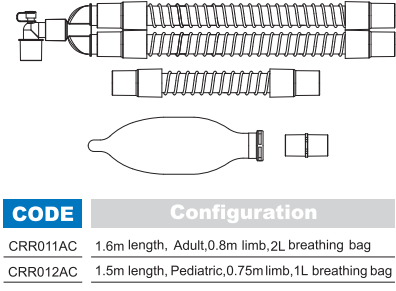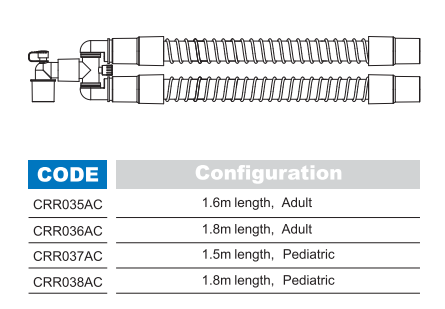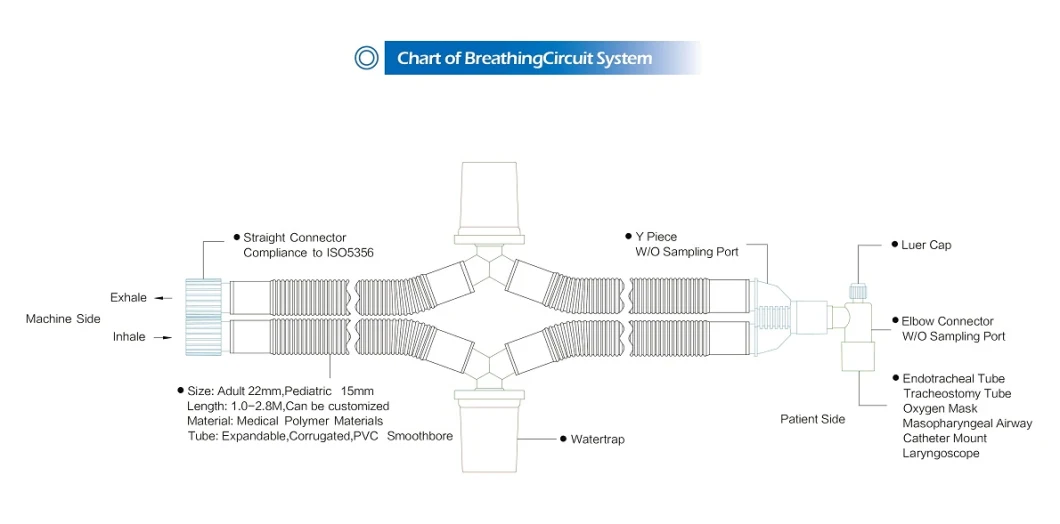 used to connect with anesthesia machine, ventilator machine, humidifier and nebulizer, setting up a breathing connection channel for the patient.
---
Previous:
Disposable Smoothbore Anesthesia Circuit
---
Write your message here and send it to us