Disposable Duo-Limb Circuit
Product Detail
Product Tags
Anesthesia Breathing Circuits are available corrugated,expandable and PVC smoothbore,which can be in combination with Anesthetic mask, Breathing system filter,Breathing bag and Respiratory machine,offer a simple,convenient and efficient passagefor clinic gas delivery,such as anesthetic gas,oxygen gas.Ifyou require a unique length or configuration,we can assemble a circuit toyour exact specifications.
100% latex free
Constructed of flexible and light weight tubing
High transparency for good visibility
Wide variety of lengths accommodate all patient
positioning needs
Cuffed connections ensure good sealing
Available in both adult and pediatric diameters
High transparency for good visibility
Wide variety of lengths accommodate all patient positioning needs
Cuffed connections ensure good sealing
Available in both adult and pediatric diameters
1.Y connector with monitoring port,convenient for sampling and detection
2.Proper design assures good conformibility and lower tube resistance
3.Soft tube,anti-bending,transparent,easy to be observed
4.Water trap collects condensate,decreasing the polluting ratio of respiratory machines
5.International standard connector,matched with multiple respiratory machines
The circuit can be well connected with monitoring facility with good breathing flexibility, no bending, no damage, and can ensure the flexibility for gas during mechanic ventilation.
The circuit is easy operate, sterile safety and protect infection.
According to the client requirements,they can choose or only buy other sizes single tube,or mask,bag,artificial nose,dust filter and various connectors
Disposable breathing circuit is an assembly of components which connects patient's airway to anaesthesia machine or breathing machine through which controlled composition of gas micture is dispensed.It delivers gas to patient,removes expired gas and controls the temperature and humidity of the inspired micture.It also provide ports for gas sampling,airway pressure,flow and volume monitoring.Our circuits are made of medical plastic and designed with standard connector.They consist of different components:breathing bag,tubes,water traps,limb and connection.The ccircuits have the characteristics of easy use,safe,efficiency etc.
Disposable anesthesia breathing circuit match use with anesthesia machine or breathing machine, as a use of piping anesthesia gases, oxygen and other  medical gases into patient.
This product is made by non-toxic and smell-less material PP and PE, with the characteristic of good elasticity, flexibility and press tightness
1. The product is suitable for breathing circuits,including Y connector, Water Trap, disposable breathing Circuit-Corrugated, BVF, Humidification Chambers
2. Swivel elbow and sputum suction hole with cap make this product more flexible and convenient to use, and provide good comfort during sputum suction.
3. Humidification Chambers is designed for automatic water supply to ensure that it is maintained at a low water level while generating high-performance water vapor.
4. The high-performance BVF is used to isolate bacteria and viruses during long-term anesthesia or respiratory remission, and the effect can reach 99.999%.
1. Reusable for all kinds of breathing and anesthesia machine.
2. Used for operation patients in anaesthesia and oxygen, or patients after recovery, or patients with severe postoperative respiratory support and care.
3. The breathing tube is made of 100% medical grade imported silicone rubber
4. Patent technology of integrated molding.
5. High strength, good flexibility, not prone to falling off and being separated.
6. Joints are made with injection molding with no gas leakage.
7. Can be sterilized by autoclave (up to 136°C) and EO gas.
8. Length can be customized, OEM is available.
9. Free options among water trap, Y type joint, L-shaped connector, masks, breathing bags, etc
used to connect with anesthesia machine, ventilator machine, humidifier and nebulizer, setting up a breathing connection channel for the patient.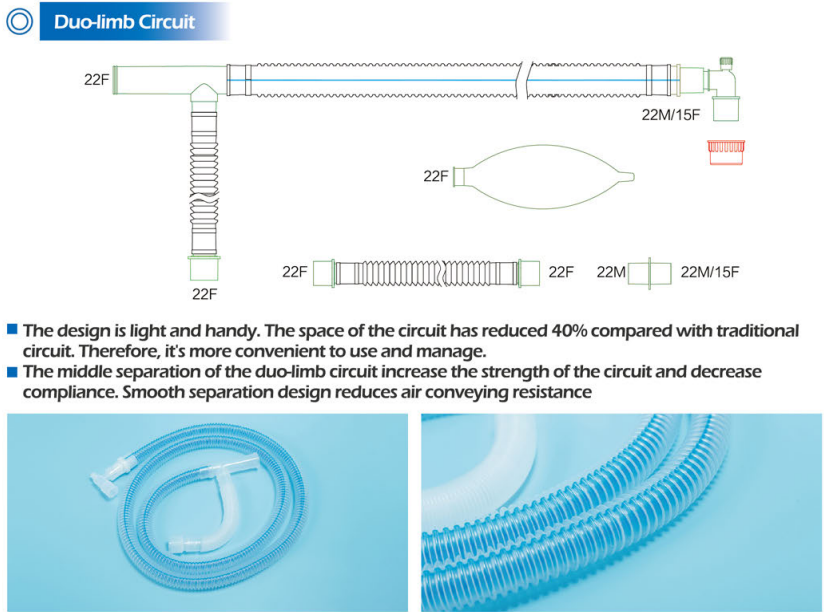 ---
---
Write your message here and send it to us