Disposable Corrugated Anesthesia Circuit
Product Detail
Product Tags
● Anesthesia breathing circuit is applied for anesthesia machine and ventilation to input oxygen and anesthesia.
● It aids in heat and moisture retention, speed up the recovery time of patients.
● Multiple choice with various connectors, masks, breathing bags,filter, water traps and etc.
Easy To Manage
The patient end connector complies with the ISO standard which allows for ease of fitting to ETT tubes, Laryngeal masks, Catheter Mounts, Face masks or Elbows
Kink Resistance
The air flow will be maintained even when the circuit is twisted
Hygienic and Efficient
All our circuits are designed for single-patient use which help prevent costly cross-contamination and contribute to process efficiency
Sterile Circuit Available
We offer the sterile option to match the specific requirements
Various Configuration
We offer a variety of options to build circuit kits, including length, tubing preference, and other add-ons.
1. The product is suitable for breathing circuits,including Y connector, Water Trap, disposable breathing Circuit-Corrugated, BVF, Humidification Chambers
2. Swivel elbow and sputum suction hole with cap make this product more flexible and convenient to use, and provide good comfort during sputum suction.
3. Humidification Chambers is designed for automatic water supply to ensure that it is maintained at a low water level while generating high-performance water vapor.
4. The high-performance BVF is used to isolate bacteria and viruses during long-term anesthesia or respiratory remission, and the effect can reach 99.999%.
1. Reusable for all kinds of breathing and anesthesia machine.
2. Used for operation patients in anaesthesia and oxygen, or patients after recovery, or patients with severe postoperative respiratory support and care.
3. The breathing tube is made of 100% medical grade imported silicone rubber
4. Patent technology of integrated molding.
5. High strength, good flexibility, not prone to falling off and being separated.
6. Joints are made with injection molding with no gas leakage.
7. Can be sterilized by autoclave (up to 136°C) and EO gas.
8. Length can be customized, OEM is available.
9. Free options among water trap, Y type joint, L-shaped connector, masks, breathing bags, etc
Disposable Anesthesia Breathing Circuit could be used to connect with anesthesia machine, ventilator machine, humidifier and nebulizer, setting up a breathing connection channel for the patient.
Accessories: could be used together with breathing filter, anesthesia mask, catheter mount, breathing bag, gas sampling line, etc.
Product Name

High Quality Disposable Corrugated Circuit 

Material

EVA+PP

Type

Adult, Pediatric and Neonatal

Length

0.8m, 1m, 1.2m, 1.5m, 1.6m, 1.8m, 2.4m, 3m, etc

Packing Methods: 

Paper Plastic Pouch/PC; PE pouch/PC

Outer Package:

59x45x42cm for CTN Size
20pcs/CTN for Adult, 25pcs/CTN for Pediatric

Brand:

Reborn or OEM as per customers' request

Sterilization:

Ethylene Oxide Sterilization

Delivery Time:

20 days or depends on specific case

Certification:

ISO, CE

HS Code:

90183900000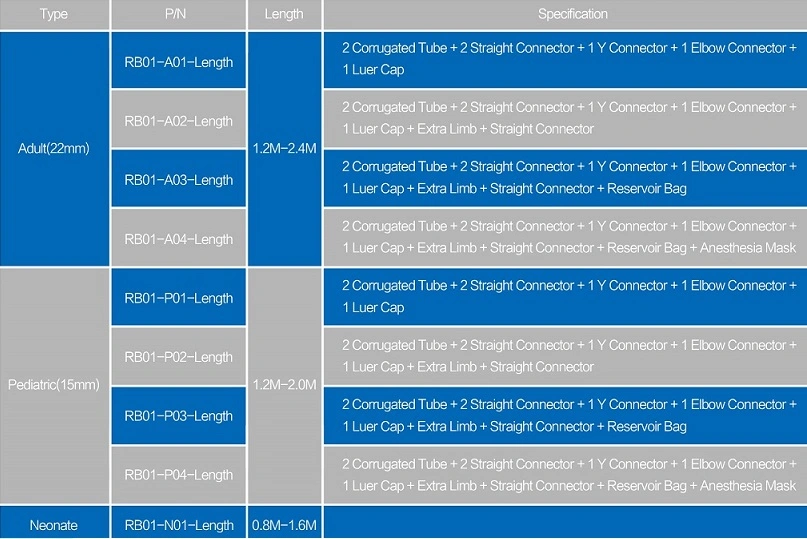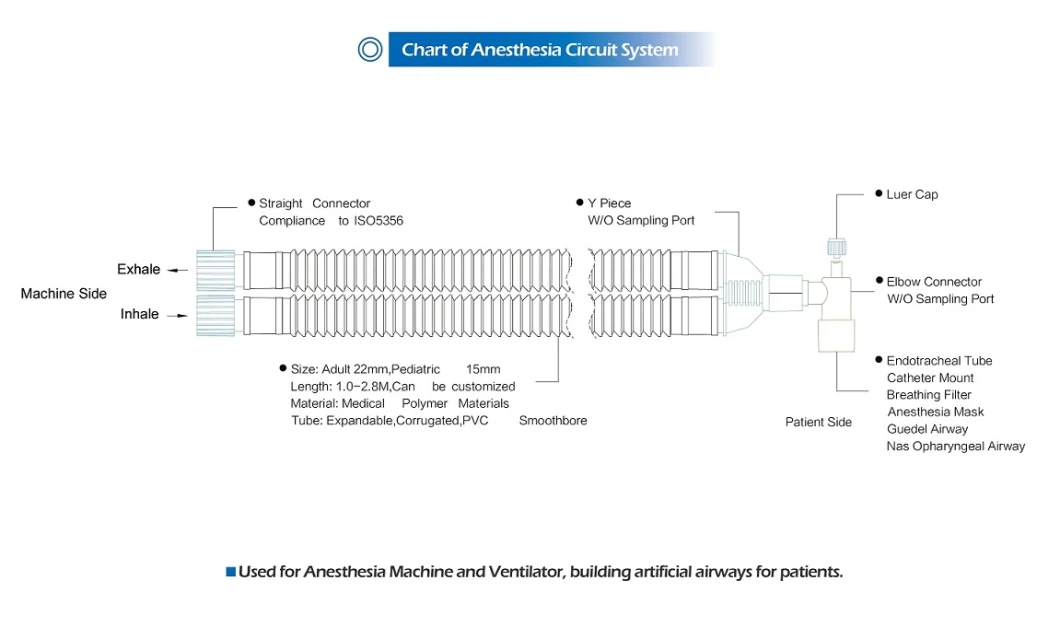 used to connect with anesthesia machine, ventilator machine, humidifier and nebulizer, setting up a breathing connection channel for the patient.
---
---
Write your message here and send it to us