Disposable Expandable Breathing Circuit with Double Watertraps
Product Detail
Product Tags
1. Y connector with monitoring port,convenient for sampling and detection
2. Proper design assures good conformibility and lower tube resistance
3. Soft tube,anti-bending,transparent,easy to be observed
4. Water trap collects condensate,decreasing the polluting ratio of respiratory machines
5. International standard connector,matched with multiple respiratory machines
The circuit can be well connected with monitoring facility with good breathing flexibility, no bending, no damage, and can ensure the flexibility for gas during mechanic ventilation.
The circuit is easy operate, sterile safety and protect infection.
According to the client requirements,they can choose or only buy other sizes single tube,or mask,bag,artificial nose,dust filter and various connectors
1. The product is suitable for breathing circuits,including Y connector, Water Trap, disposable breathing Circuit-Corrugated, BVF, Humidification Chambers
2. Swivel elbow and sputum suction hole with cap make this product more flexible and convenient to use, and provide good comfort during sputum suction.
3. Humidification Chambers is designed for automatic water supply to ensure that it is maintained at a low water level while generating high-performance water vapor.
4. The high-performance BVF is used to isolate bacteria and viruses during long-term anesthesia or respiratory remission, and the effect can reach 99.999%.
Disposable Anesthesia Breathing Circuit could be used to connect with anesthesia machine, ventilator machine, humidifier and nebulizer, setting up a breathing connection channel for the patient.
Accessories: could be used together with breathing filter, anesthesia mask, catheter mount, breathing bag, gas sampling line, etc.
connected with respiratory system. perform suction of the body fluid when perform operation on thoracic cavity or abdominal cavity
breathing circuit specification:
Material:PP and PVC.
Large lumen resistes clogging and the transparency allows clear visualization of liquids
Two kinds of style: with vent and without vent
With connecting tube
Store claim: store in dark, dry and clean conditions
Expiry date: 3years
Disposable breathing circuit is an assembly of components which connects patient's airway to anaesthesia machine or breathing machine through which controlled composition of gas micture is dispensed.It delivers gas to patient,removes expired gas and controls the temperature and humidity of the inspired micture.It also provide ports for gas sampling,airway pressure,flow and volume monitoring.Our circuits are made of medical plastic and designed with standard connector.They consist of different components:breathing bag,tubes,water traps,limb and connection.The ccircuits have the characteristics of easy use,safe,efficiency etc.
Disposable anesthesia breathing circuit match use with anesthesia machine or breathing machine, as a use of piping anesthesia gases, oxygen and other  medical gases into patient.
This product is made by non-toxic and smell-less material PP and PE, with the characteristic of good elasticity, flexibility and press tightness
Disposable Light Weight, Efficient Transportation Expandable/Extendable/Extendible Anesthetic/Anaesthesia Breathing circuit
 *  Tubing available: Corrugated, Expandable (Extendable), Smoothbore, Coaxial, Bilumen, Heated wire integrated;
 *  Sizes available: Neonate, Child, Adult;
 *  Lengths available: 1.5m, 1.6m, 1.8m, 2m, 2.4m, 2.7m, 3m or others upon request
 *  Accessories available: Y Adaptor with/without ports, Elbow Connectors with/without ports, Re-breathing bags, limbs, Filters, Anaesthetic masks, humidifiers, Gas sampling lines, catheter mounts (extension lines), water traps, safety caps;
 *  Made from medical grade materials: Phthalate-free PVC, EVA, PC, PE, PP etc
 *  ISO standard 22mm, 15mm,10mm connectors for good compatibility
 *  Circuits are available with Clinically Clean or Sterile
 *  100% leakage test performed
Product Name

High Quality Disposable Extendible Circuit 

Material

EVA+PP

Type

Adult, Pediatric and Neonatal

Length

0.8m, 1m, 1.2m, 1.5m, 1.6m, 1.8m, 2.4m, 3m, etc

Packing Methods: 

Paper Plastic Pouch/PC; PE pouch/PC

Outer Package:

59x45x42cm for CTN Size




40pcs/CTN for Adult, 50pcs/CTN for Pediatric

Brand:

Reborn or OEM as per customers' request

Sterilization:

Ethylene Oxide Sterilization

Delivery Time:

20 days or depends on specific case

Certification:

ISO, CE

HS Code:

90183900000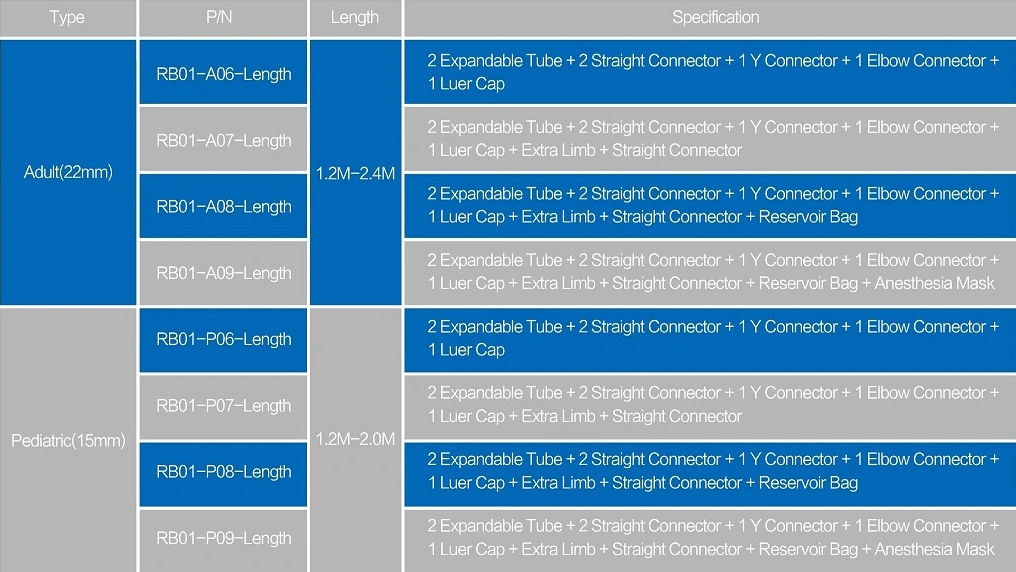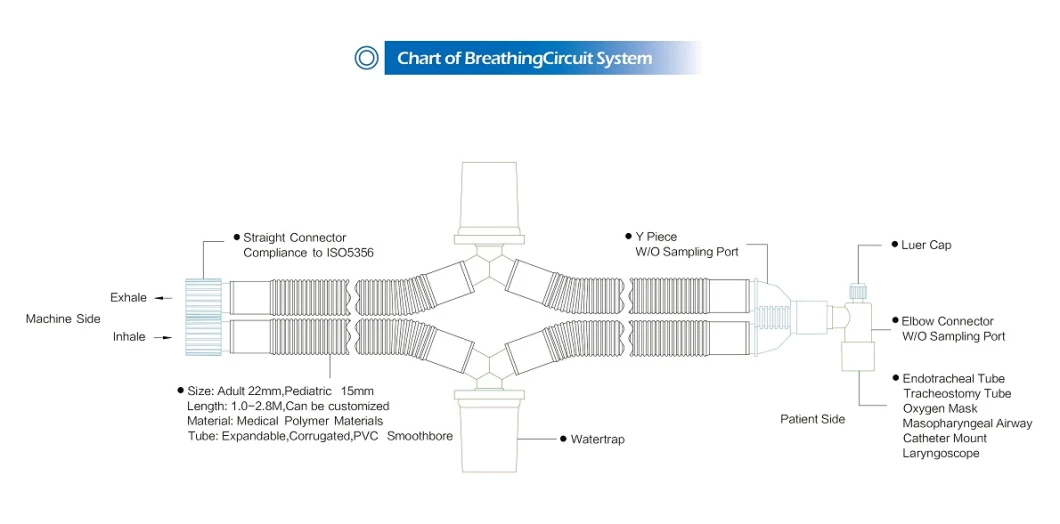 used to connect with anesthesia machine, ventilator machine, humidifier and nebulizer, setting up a breathing connection channel for the patient.
● Anesthesia breathing circuit is applied for anesthesia machine and ventilation to input oxygen and anesthesia.
● It aids in heat and moisture retention, speed up the recovery time of patients.
● Multiple choice with various connectors, masks, breathing bags,filter, water traps and etc.
---
Previous:
Disposable Expandable Anesthesia Circuit
---
Write your message here and send it to us