Disposable Breathing Filter Hmef
Product Detail
Product Tags
Transport Package:Carton
Specification:38*32*34cm 100pcs/carton
Origin:Shaoxing
HS Code:9018390000
Production Capacity:50000PCS/Week
This product is a breathing circuits part for protecting patients against bacterial and viral infection, providing constant heat and moisture purify air.
Disposable breathing filter (hereinafter referred to as breathing filters), respiratory filters for single use, mainly for breathing machine andanesthesia machine pipeline filter bacteria, particles and increase the degree of wet gas, can also check in lung function pulmonary function tests with the equipment for use in patients with bacterial pathogens for filtering droplets to protect spirometry equipment, but also preventcross-infection.
1) Open the package, take out the HME filter;
2) connect filter inlet to anesthesia machine'
3) connect filter outlet to respiration tubing, ET tube, mask, etc
4) Operate as normal general anesthesia procedure
5) This product should be used under medical supervisor.
CE and ISO Certified Disposable HME Filter For Medical Use
Used for filtering the microparticle, viral and bacleria of anesthesia breathing circuit for anesthesia machine and ventilator machine; also, increase he degree of gas humidification in the circuit.
This product is in combination with breathing circuit and endotracheal tube (or Laryngeal Mask, being used for providing precious filting for bacteria and virus to prevent patient from cross-contamination protection for patients and equipments when the clinical gas pass through.
1. Be connected to standard connector(15/22mm);
2. Low Breathing resistance;
3. Play function of filting film to prevent particles, bacteria and other pathogens in anesthesia and breathing circuit from entering the respiratory system.
1. Packing:packed in plastic-paper pouch
2. Packed according to the client requirements
Delivery Detail: about 25 days after receipt of deposit
What's the function of breathing filter?
Disposable breathing system filters are intended to reduce the transmission of microbes and other particulate matter in anaesthesia and intensive care unit.
The HME filters addtionally provide the function of warming and humidifying the inspired gas by conserving the exhaled heat and moisture.
The filter can also used in spirometry to protect the spirometer from expired infective droplets.
The housing of products are made of medical polymer and designed with standard connectors(except spiromet filter).The filtration medium is electrostatic superfine polypropylene fiber and its hydrophobic property can inhibit the growth of microorganisms.
The use of our filter at patient end can effectively reduce the risk of cross-infection during anaesthesia and intensive care and will protect the anaesthesia and breathing equipment.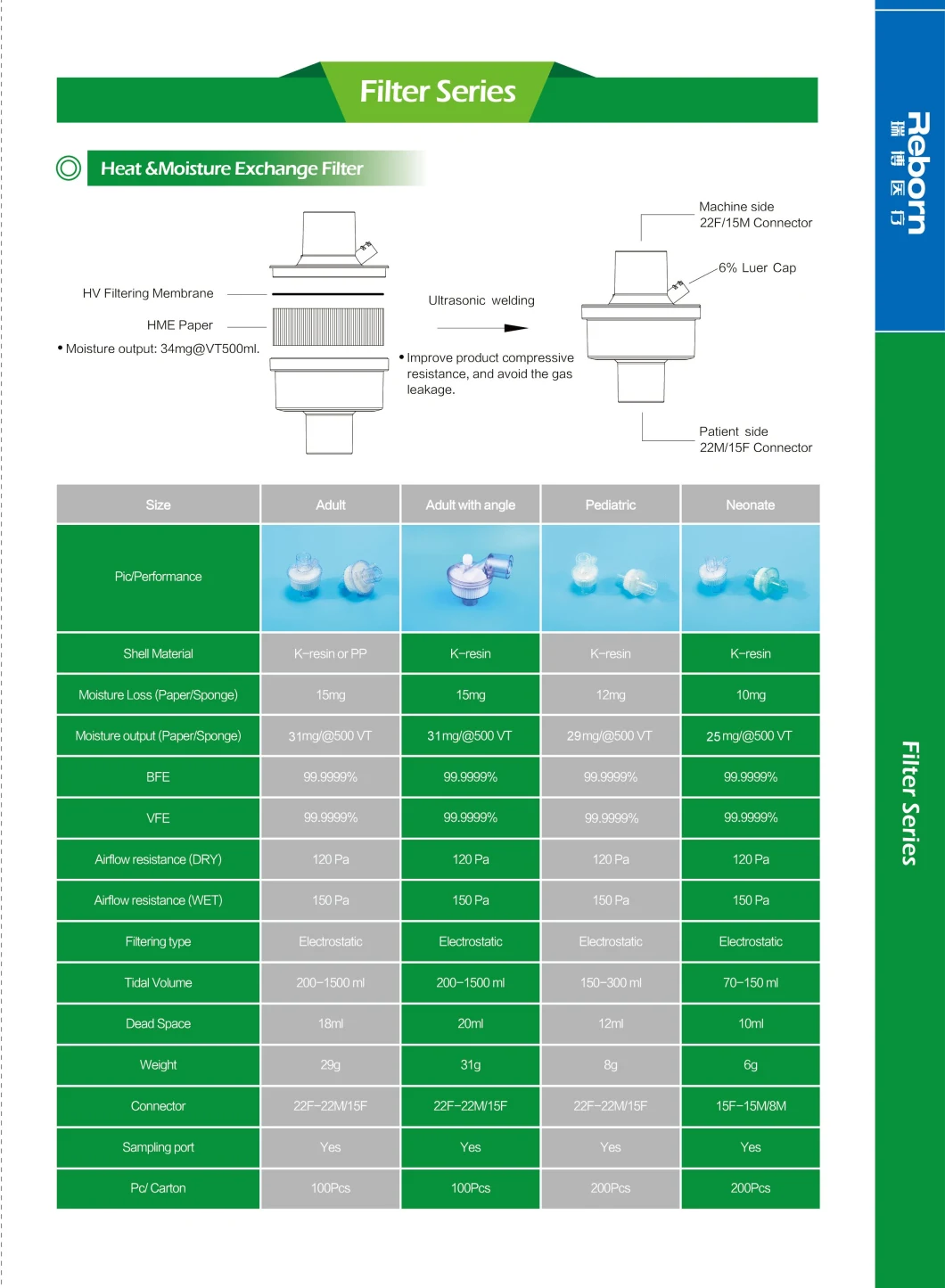 HMEF is designed to retain moisture from the gas expired by patients whose upper airway are being bypassed by an artificial airway which removes the patient's natural ability to filter, warm and moisten inspired gas. The media of HMEF acts in a similar way to a person's upper airway, when they breathe out the media traps and retains moisture and warmth present in expired breath, which otherwise would be lost. 
Disposable Medical Foam HMEF Filter Bacterial Filter
Disposable breathing system filter(HMEF) is used in mechanically ventilated and laryngectomy patients to heat and moisturize the air and help prevent complications. that arise when patients lose the ability to breathe through their nose and upper airway. Captures heat and moisture on expiration and returns it to the patient in inspiration. 
| | |
| --- | --- |
| Product name | Disposable Heat and Moisture Exchanger Filier(HMEF) |
| VFE | ≥99.99% |
| BFE | ≥99.99% |
| Certificate | CE, ISO13485 |
| Material  | PP |
| Packaging | Each PC put into polybag |
Lightweight, compact design reduces circuit weight
Low resistance to flow reduces work of breathing
ISO standard 15 mm and 22 mm fitting connects to breathing circuit Resisitance:≤0.2KPa(at 30ml/min)
Available in adult and paediatric options
1.Manufactured from Non Toxic Plastic;
2.Minimize dead space and weight on endotracheal tube and circuit while maximizing efficiency;
3.Electrostatic hydrophobic membrane protects against cross-contamination;
4.Hygroscopic membrane traps patient's moiature providing effective airway humidification;
5.Low resistance to airflow minimizes work of breathing;
6.Effective moisture control reduces the risk of colonization in breathing tubes and minimizes sampling line blockage;
Made of medical grade K glue
·With electrostatic filtration method, the filtration rate of bacteria and viruses can reach 99.9999%
·Provide patients with hot and humid gas to reduce the occurrence of complications
·Avoid cross-infection of anesthesia machine and ventilator to effectively reduce the risk of lung infection in patients
·Reduce the number of nursing care by medical staff
·It can be connected with related consumables such as anesthesia masks, pipelines, etc.
Disposable Heat Moisture Exchange Filter(HME Filter),for the function of moist,warm and filter the gas come out from the breathing machine.In clinical application,it helps anesthesia patients by wetting and filtering the gases during breathing.This product is made by medical plastic PP with standard connector and apply use in anesthetic circuit with more than 99.99%filtering rate,providing high efficiency of thermal insulation and moisturizing.
The heat moisture and exchanger filter has a large condensation surface with hygroscopic coating which helps ensure effective moisture and heat retention thus minimizing the moisture and heat loss of the patient.
Heat moisture and exchanger filter help create normal conditions in the patient's airway and lungs,which helps to reduce the risk of breathing and lung complications for patients in critical care and anesthesia environments.
Disposable heat and moisture exchange filter is used in anesthesia respiiration pipe ,to filtering dust and foreign matter from the anesthesia gas to prevent from the pa rticles and dust to be harm to the respiratory tract.
Product performance description
Disposable heat and moisture exchange filter is used in anesthesia respiiration pipe, to filtering dust and foreign matter from the anesthesia gas to prevent from the pa rticles and dust to be harm to the respiratory tract, it is only for single use effectively prevent from the cross infection. With its efficient of wetting, heating and filtration effect is widely used in clinical, including artificial airway management and mechanical ventilation treatment, patients with total laryngectomy and surgical anesthesia.
---
Previous:
Disposable Breathing Bag
---
Write your message here and send it to us