Disposable Breathing Filter HEPA
Product Detail
Product Tags
This product is in combination with breathing circuit and endotracheal tube (or Laryngeal Mask, being used for providing precious filting for bacteria and virus to prevent patient from cross-contamination protection for patients and equipments when the clinical gas pass through.
Disposable HEPA Filter,for the function of moist,warm and filter the gas come out from the breathing machine.In clinical application,it helps anesthesia patients by wetting and filtering the gases during breathing.This product is made by medical plastic PP with standard connector and apply use in anesthetic circuit with more than 99.99%filtering rate,providing high efficiency of thermal insulation and moisturizing.
The heat moisture and exchanger filter has a large condensation surface with hygroscopic coating which helps ensure effective moisture and heat retention thus minimizing the moisture and heat loss of the patient.
Heat moisture and exchanger filter help create normal conditions in the patient's airway and lungs,which helps to reduce the risk of breathing and lung complications for patients in critical care and anesthesia environments.
1. With high quality
2. Clear and filter bacteria and dust
3. Heat storage and keep wet
4. Avoid the cross infection and lung infections of patients
5. Apply to all kinds of anesthesia breathing piping system
1. Humidification, insulation and filtration, can filter bacteria and viruses, prevent cross-infection.
2. Used in anesthesia or ICU (suitable for the sections with breathing machine).
3. CE & ISO:13485 approved
4. Recommended patient: adult
5. Bacterial retention: 99.99%    Viral retention: 99.99%
6. Filtration method: electrostatic and Mechanical barrier
7. Resistance (pa): 80 at 30L/min 
8. Connector patient side: 22M/15F;    Connector Machine side: 22F/15M
High filtration efficiency and moisture output for patient protection and humidification.
Low dead space to minimize the risk of re-breathing carbon dioxide.
Luer lock port for gas sampling.
ISO tapered connection to ensure connection without air leak.
Medical Anesthesia Breathing HEPA Filter 22M/15F
1. Disposable Bacterial/Viral Filter
2. ISO&CE Certificated
3. Good Quality&Reasonable Price
Medical filters are used in respiratory support equipment such as life support and human ventilation machine, fitted in the airway between equipment and patient. The removal of bacteria from the air breathed in the hospital environment is critical in the protecytion of the patients,other hospital personnel and breathing support equipment
Life line technologist Aeroclean filters utilize hyddrophobic membrane & synthetic media that provide barrier & electrostatic filtration with bacterial & vital removal effciency higher than 99.99% accompolished with extremely low resistance to airflow. The HMW Keeps moisture retention and warming of inhaied air, Aeroclean filter design in different sizes with CO2 monitoring port,faciliate use ona wider range of patients.
1.Clear housing,
2.Low flow resistance
3.High filtration efficiency,
4.High heat & humidity level,
5.CO2 Montroring level,
6.Port Sterile package.
1: Luer port and cap
2: VFE≥ 99.999% BFE ≥ 99.999%
3: Blocking particles, bacteria and other pathogens in the anesthesia and breathing circuit from entering the respiratory system
4: Low breathing resistance
5: Humidity output: N/A Filtration efficiency: BFE 99.996%, VFE 99.995%
6:Resistance: 30 lpm, 60 Pa
7.:Dead space: 32ml
8:Tidal volume range: 150 to 1,500ml
9:Connections: 22M/15F to 22F/15M
10: According to ISO Standard, match all kinds of anaesthetic and breathing machines6:
11: ISO and CE Certificated
12: OEM Service Offered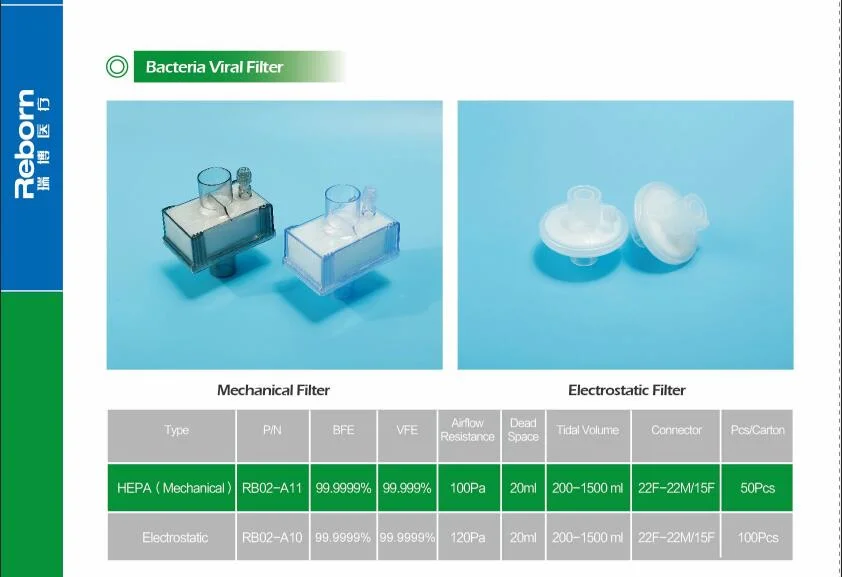 HEPA FILTER/DISPOSABLE BREATHING FILTER
---
Previous:
Disposable Tracheostomy Filter
Next:
---
Write your message here and send it to us