Disposable Anesthesia Mask
Product Detail
Product Tags
| | |
| --- | --- |
| Product name | Anaesthetic Mask |
| Size | 1#2#3#4#5#6# |
| Material | medical grade PVC or others |
| Product Usage | Used for anesthetize; oxygen input; artificial respiration. |
| Quality | CE/ISO13485 |
| OEM/ODM | Clients' design is welcome |
| Application | The PVC Anaesthetic Mask is designed for use with automatic ventilators and manual resuscitators. |
| Shelf life | 3 years |
1. Anesthesia masks are face masks that are designed to administer anesthetic gases to a patient through inhalation.
2.It is placed over the nose and mouth of patients for short-term anesthesia before surgery
3. Color coded to easily indentify sizes.
4. Air cusion assures comfortable face fitting.
5. Available in six sizes to accommodate a full range of patients.
6. Ergonomic design and flexible material provide patients secure seal and comfort.
Anaesthesia Mask

Size

Remarks

Size

Remarks

#1

Neonate

#4

Adult-S

#2

Infant

#5

Adult-M

#3

Pediatric

#6

Adult-L
* Made of medical grade PVC
* DEHP free, 6P free, Latex free, Scents free
* High transparency allows good visibility
* Elastic and soft property provides excellent seating, sealing and comfort
* Ergonomics design to provide perfect feeling (avoid mouth touch)
* Reasonable hook ring design to avoid uncomfortable finger touch
* Color identification for different items
* Spring valve provide consistent sealing force
Anesflex mask is designed to fit perfectly for the gace structure.
Airtight cushion part with superior siftness provides maximum comfort.
* Non-toxic,non-ordor,high strength.
* contoured cushion creates a gentle seal with the patient's face.
* Available in 6 sizes to accommodate a full range of patients.All sizes include an inflation port providing a customized fit and comfort.
* 22mm color-code retaining rings are removable for hand-held prodedures.
* anesflex mask can be connected with the anesthesia,breathing machine,oxygen breathing machine,high pressure chamber,imbibe-way painless childbearing machine as well as the rescue respiration bag.
* Suitable for use of anesthesia,respiratory and resuscitator.
Injectable air cushion Mask (Blow Molding)
• High transparency for better visualization. 
• Color-coded hook valve options. 
• Injectable and adjustable air cushion. 
• Non-reusable. Single use only. 
• 100% Medical level PVC material.
Anesthesia mask is made of medical materials, innoxious,odorless with favorable transparence.It is 100% Latex-free ,comply with biocompatibility standard. The soft ,inflatable air cushion is intended for fitting the patient's face,ensures flexibility and air tightness.
This device can be connectede with multiple medical equipment such as anesthesia machines,ventilators,oxygn-machines, hyperbaric oxygn stores, inhaled painless delivery instrument, and emergency breathing apparatus. A varirty of specification are available.
Disposable face Mask anatomically correct .
face mask designed specifically for anesthesia departments.
Also suitable for resuscitator and other applications involving oxygen treatment.
- Very soft anatomically shaped cuff enabling a tight seal with minimum applied pressure
- Shoulder grip fitting different hand sizes
- Crystal clear dome for easy observation of the patient's condition
- Supplied with a color hooking ring for fast and easy identification of size;
-  hook ring can easily be removed if not needed
- All sizes are delivered individually packed in a transparent, easy to open bag
1. Transparent, non-toxic, odorless
2. For one patient, safe and reliable
3. Matched with anesthesia breathing circuits
4. Disposable, preventing cross injection
5. Cusion well fits patient's face, providing good airtightness
6. DEHP-free, comply with the requirement of ISO standard
7. Transparent shell, convenient for monitoring. 
8. Single use design to eliminate cross-infection.
9. Latex-free.
The silicone anesthesia mask is used in anesthesa and respiratory. The device can be connected with multiplemedical equipments, such as anesthesia machines, ventilators, oxygen-machines, hyperbaric oxygen stores.
1. Supple cushion membrane delivers a full face seal with minimal pressure.
2. Cone made of flexible material to ensure clinician comfort
3. Inflation valve placed at the nose for easy access
4. Malleable cone allows for a comfortable grip
5. Thin cushion provides exceptional sealingess delivery instruments, and emergency breathing apparatus. 
6. Provide the superior comfort to patient due to its extreme soft air cushion.
7. Medical grade PVC material. Latex free.
8. It can be disposable and reusable.
9. Available Size: 0# 1# 2# 3# 4# 5#
10. Different sizes for Adult,Pediatric and Infant.
11. Disposable Air Cushion Mask is equipped with injectable check valve and hook ring with different color
12. Used for Clinical anesthesia assisted breathing and Cardiopulmonary resuscitation auxiliary
13. soft,inflatable air cushion isintended for fitting the patient's face,flexibility and airtightness
It is used for connecting and ventilating of anesthesia breathing circuit and the patient-end apparatus.Mask or inhalation induction allows your child to breathe anesthesia medicines until he or she falls asleep. With this approach, needle sticks are done after your child is asleep.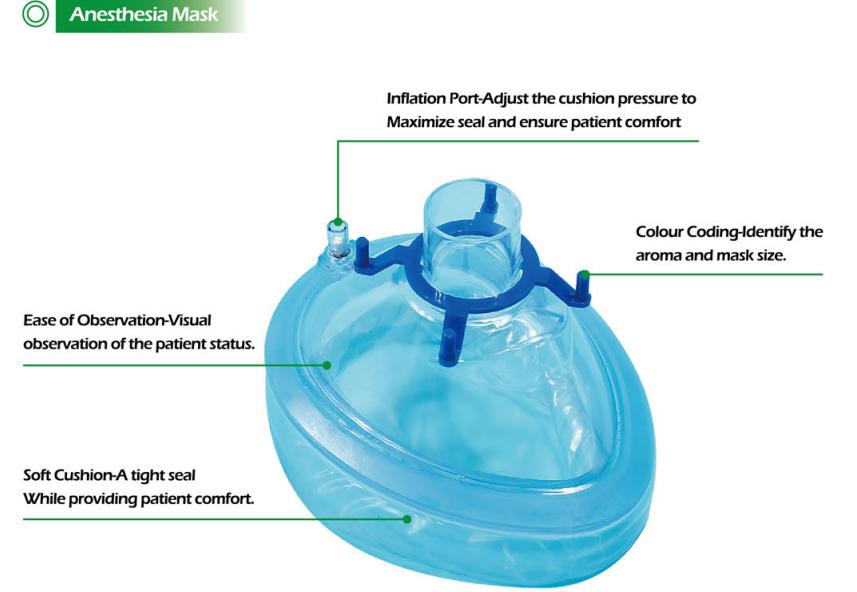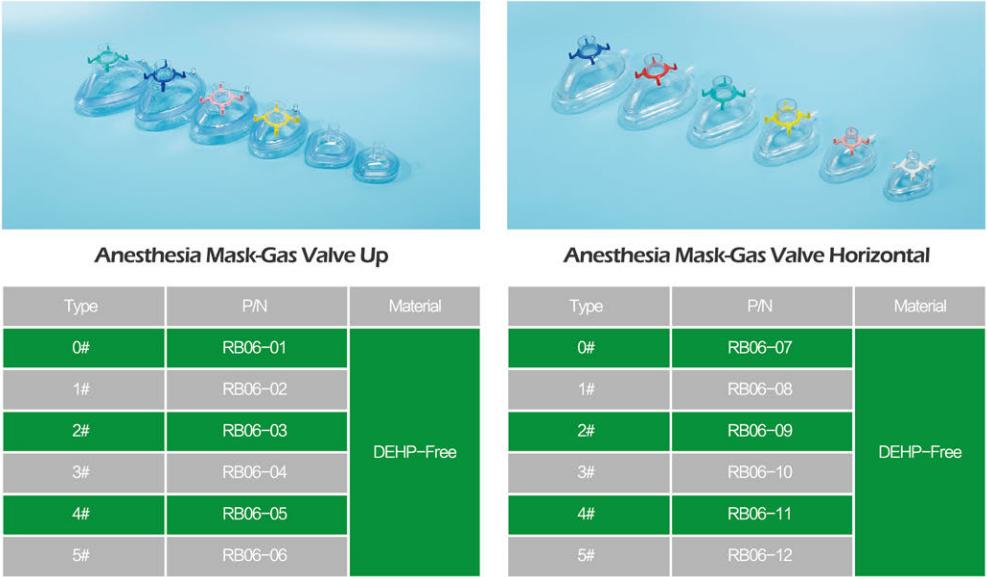 ---
Next:
Disposable Breathing Bag
---
Write your message here and send it to us